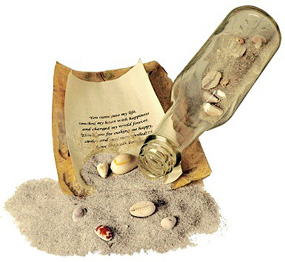 What a great way for your guests to receive their Quinceanera invitations! As if washed up on the shore, your special guests will feel it's their destiny to participate in your Sweet Fifteen.  This particular piece is another Hanson Ellis product available here. Although the company markets items for brides, this design is perfect for your Quinceanera invitations.
Use it as an invitation to any beach, water, or boat-themed Quinceanera.  These glass bottles are filled with fine sand and real mini seashells.  Your custom invitation is printed on natural oil paper with cedar leaves. Each beach invitation bottle is firmly corked and is adorned with a raffia ribbon.  You can even have the bottle engraved with your initials or message.
The "message in a bottle" idea is good for a theme Quinceanera celebration.  We previously discussed the Aladdin Quinceanera (and great video) here at MyQuinceaneraInvitations.com.  Other appropriate themes could be "tropical paradise", "Hawaiian Luau", or "Island Oasis".  You could also use these for any celebration held at a yacht club, harbor, or other waterside venue.
This is an idea that you can have fun with, and even create yourself.  Hobby shops will have different shapes and sizes of bottles, papers, and even sand.  Try getting some friends to help you, and you'll all have fun creating some memorable Quinceanera invitations.  Or save the labor and get the complete invitation sets here.